| | |
| --- | --- |
| Posted by buddhadog on June 22, 2010 at 8:18 PM | |
It Happens Everywhere
by Lisa Vaughn of http://www.petinsurancecomparison.org
Homeless animals can be found in every city of every state. The numbers are shocking. An average of seven million dogs and cats enter America's shelters and pounds every year. Half of these animals are euthanized because of the lack of available homes for them. The number of stray animals on the streets is just as alarming. Although, an accurate count is impossible to obtain, it is estimated to be way over a hundred million. We do know that the number of stray cats alone is around seventy million. No wonder the number is so high when you consider the fact that in five years time, a female dog and her offspring can produce sixty-five thousand puppies. In the same amount of time, a cat and her young can bring three-hundred thousand little ones into the world.
The statistics are astronomical and you may wonder, can this problem be solved? The answer is "YES". America can get a handle on the growing number of strays and abandoned animals. We can support and implement widespread sterilization programs. Pet owners can help by spaying and neutering their animals. It is proven that when sterilization programs are placed in cities, the number of sheltered animals decrease dramatically. Education is the key component in helping the tragedy of animal overpopulation. Unless people know the heart-wrenching number of homeless animals, they are helpless to do anything about them.
Spaying and neutering will lesson the staggering number of unwanted little ones produced every year, but how do we save the ones already here? Adopt and Rescue! It is impossible for shelters to house the number of strays in America today. Consequently, homeless animals are turned away or in the case of "open-entry" shelters (no animal refused), the weaker are euthanized to make room for others. Adopting a pet will create space for another unlucky animal seeking shelter, food, and a chance to find a loving home. It will save a life and in return, you will get many years of friendship, enjoyment, and unconditional love.
Rescuing a homeless animal from the streets is just as important and rewarding as adopting. Two years ago, we found a Boston Terrier hiding under our shed. We tried to coax her out, but she was too scared. Every day, my daughters and I would go talk to her and give her food and water. It took a week for her to trust us enough where she would come to the house. After that, she was ours. The joy and love we receive from her is immeasurable to what we gave her. We have three long-haired Chihuahuas that were bought from a breeder and they are wonderful, but there's just something different about Lucy. She looks in our eyes with so much appreciation; I can almost feel her thanking us. People say she was lucky to find us but we were the lucky ones.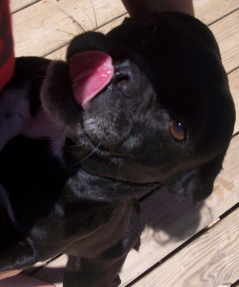 Lisa's precious rescue, Lucy
THANK YOU, Lisa Vaughn of http://www.petinsurancecomparison.org for your blog contribution!